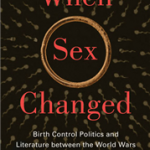 From Rutgers University Press:
"In When Sex Changed, Layne Parish Craig analyzes the ways literary texts responded to the political, economic, sexual, and social values put forward by the birth control movements of the 1910s to the 1930s in the United States and Great Britain.
Discussion of contraception and related topics (including feminism, religion, and eugenics) changed the way that writers depicted women, marriage, and family life. Tracing this shift, Craig compares disparate responses to the birth control controversy, from early skepticism by mainstream feminists, reflected in Charlotte Perkins Gilman's Herland, to concern about the movement's race and class implications suggested in Nella Larsen's Quicksand, to enthusiastic speculation about contraception's political implications, as in Virginia Woolf'sThree Guineas.
While these texts emphasized birth control's potential to transform marriage and family life and emancipate women from the "slavery" of constant childbearing, birth control advocates also used less-than-liberatory language that excluded the poor, the mentally ill, non-whites, and others. Ultimately, Craig argues, the debates that began in these early political and literary texts—texts that document both the birth control movement's idealism and its exclusionary rhetoric—helped shape the complex legacy of family planning and women's rights with which the United States and the United Kingdom still struggle."