Tag Archives:
transatlanticism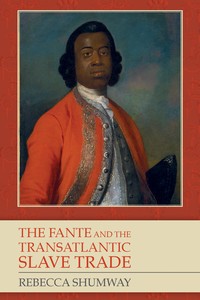 From Amazon:
The history of Ghana attracts popular interest out of proportion to its small size and marginal importance to the global economy. Ghana is the land of Kwame Nkrumah and the Pan-Africanist movement of the 19 60s; it has been a temporary home to famous African Americans like W. E. B. DuBois and Maya Angelou; and its Asante Kingdom and signature kente cloth-global symbols of African culture and pride-are well known. Ghana also attracts a continuous flow of international tourists because of two historical sites that are among the most notorious monuments of the transatlantic slave trade: Cape Coast and Elmina Castles. These looming structures are a vivid reminder of the horrific trade that gave birth to the black population of the Americas. The Fante and the Transatlantic Slave Trade/ explores the fascinating history of the transatlantic slave trade on Ghana's coast between 1700 and 1807. Here author Rebecca Shumway brings to life the survival experiences of southern Ghanaians as they became both victims of continuous violence and successful brokers of enslaved human beings. The era of the slave trade gave birth to a new culture in this part of West Africa, just as it was giving birth to new cultures across the Americas. The Fante and the Transatlantic Slave Trade pushes Asante scholarship to the forefront of African diaspora and Atlantic World studies by showing the integral role of Fante middlemen and transatlantic trade in the development of the Asante economy prior to 1807. Rebecca Shumway is Assistant Professor of History at the University of Pittsburgh.
This study takes as its point of departure an essential premise: that the widespread phenomenon of expatriation in American modernism is less a flight from the homeland than a dialectical return to it, but one which renders uncanny all tropes of familiarity and imme
diacy which 'fatherlands' and 'mother tongues' are traditionally seen as providing. In this framework, similarly totalising notions of cultural authenticity are seen to govern both exoticist mystification and 'nativist' obsessions with the purity of the 'mother tongue.' At the same time, cosmopolitanism, translation, an
d multilingualism become often eroticised tropes of violation of this model, and in consequence, simultaneously courted and abhorred, in a movement which, if crystallised in expatriate modernism, continued to make its presence felt beyond.
Beginning with the late work of Henry James, this book goes on to examine at length Ezra Pound and Gertrude Stein, to conclude with the uncanny regionalism of mid-century San Francisco Renaissance poet Jack Spicer, and the deterritorialised aesthetic of Spicer's peer, John Ashbery. Through an emphasis on modernism as a space of generalized interference, the pr
actice and trope of translation emerges as central to all of the writers concerned, while the book remains in constant dialogue with key recent works on transnationalism, transatlanticism, and modernism
.